Thank you for your interest in Rokuhan products.
We will deliver S037, "Digital Turntable" soon.

【S037 Digital Turntable】
JPY 28,000 ( Japanese market price excluding tax)
Content: turntable, controller, gap joiner part, instruction sheet
Size: Dia 170mm x Height 22mm (from bottom to track top)

【About Digital Turntable】
*It is a motorized railway turntable which can be set into your layout.
*It is used digitally controlled stepper motor, so can be fixed turntable position accurately.
*Turntable turns clockwise or counterclockwise direction and rotate 180 degrees by press button for few second.
*It can be connected with Rokuhan C005, e-Train controller, then you can operate it by smart phone or tablet.
*The turntable cabin is removable.
*S038, Round House ( one or more), are the best fit with S037 Digital Turntable, if you use only S037 Digital Turntable.
*Required A028, Rokuhan AC adapter, when connected S037 Digital Turntable.
*Not required A028 Rokuhan AC adapter, when connected S037, Digital Turntable, with RC03, controller, or C005, e-Train controller.
*The A036 extension cable may be required, if you set this on large layout.
Note: A028, A036, RC03, and C005 are sold separately.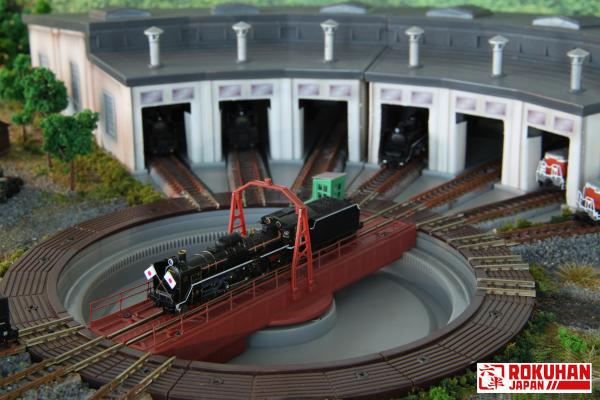 Please make reservation for S037 Digital Turntable at nearby Rokuhan hobby retailer.
*All appearance and specifications subject to change without prior notice.
Permalink : https://www.rokuhan.com/english/news/2018/02/s037.html