* Original consumer apply label sheet (station name card) for Station set (sold separately)
【G006-1 Tobu Limited Express 500 Type Revaty Starter Set
】
JPY 21,800 (excluding tax)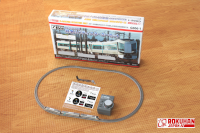 【Specification of G006-1 Tobu Limited Express 500 Type Revaty Starter Set】

* Revaty" Tobu limited Express 500 also offers starter sets for Z gauge beginners, too!!
* Printed each car number based on 503 formation.
* G006-1 Revaty Starter Set can be made actual organization cars with T034-1 or T034-2.
* Rokuhan Revaty Front and Tail cars has dummy coupler as default.
* Kegon and Aizu has bellows cover and Arnold coupler as accessories parts Kegon and Aizu are connected by charging coupler and put bellows cover as above photo.
*Be informed Kegon and Aizu has different label sheet.
* Each set has included consumer apply label sheet which can be used for the Rokuhan station series. You can make image of Tobu Railway station.
* Minimum run radios curve R95 mm (Only Starter Set)
* Minimum run radius curve R195 mm (6 cars connected condition with Kegon or Aizu)
* Head / Tail light On / Off switch for light On / Off when make run by 6 cars.
*Can be set room light units as well as other Rokuhan passenger cars . ( sold separately)
A030 x 2 pcs for front and tail cars
A009 x 1 pc for middle motor car
【Content】
*Front car (Head/ Tail light)・・・・1 pc
*Middle motor car・・・・・・・・・・・・1 pc
Tail car (Head / Tail light)・・・・・・1 pc
*Arnold coupler and bellows cover for F/T car・・・・1 set
*Original consumer apply label sheet (station name card) for Station set (sold separately)・・・・1 sheet
*Curved Track R170-45deg. (Brown tie)・・・・8 pcs
*Straight Track L220 (Brown tie)・・・・4 pcs
*RC02 Train Controller included feeder cable・・・・1 pc
*Retailer・・・・・・・・・・・・・・・・・・・・・・・・・1 pc
*Instruction manual・・・・・・・・・・・・・・・1 pc
We will start deliver in August 2018. Please make reservation for our products of your Rokuhan hobby retailer.
*Image and motion pictures are not final. Appearance and specifications subject to change without prior notice.
Please be advised that we shall not be responsible for any breakdown, damages and troubles, if it is used for other models.