Thank you for your continued interest in Rokuhan products!
In this issue, we will introduce a of the EMD F7.
For the first time in the Z Shorty series, we are releasing a train that was used outside of Japan.
【What is EMD F7?】
EMD F7 is Diesel-electric locomotive and produced between February 1949 and December 1953.
F7 is most successful locomotive in EMD F series.
Although originally promoted by EMD as a freight-hauling unit, the F7 was also used in passenger service hauling and some F7 still work for some special event cars.
There are various color variations due to the different railroad companies they belong to.
ATSF F7 is called as "Warbonnet" which is reminiscent of a Native American ceremonial headdress.
NYC F7 is called "Lightning Stripe" because it is painted in varying shade of gray with thin white stripe, reminiscent of lightning.
【ST012-1 EMD F7 ATSF】 JPY 2,068 (including tax) JPY1,880(excluding tax)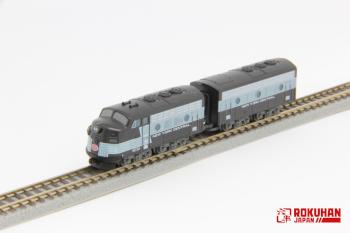 【Z Shorty EMD F7
Product Specifications
】
Included 2 draw bar(long) for connect 2 dummy chassis.
Body shell can be detached from dummy chassis.
Make deformed shorty body, windows layout.
Can be set body shell on SA001-1motor Chassis and SA003-1 trailer chassis.
Make them run on ROKUHAN track layout.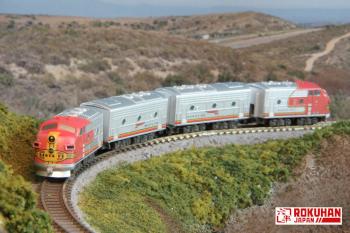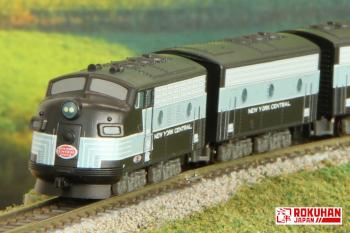 We will start delivery of ST012-1&ST012-2 in Autumn of 2021.
Please make reservation for our products of your Rokuhan hobby retailer.
★★★★★★★★★★★★★★★★★★★★★★★★★★★★★★★★★★★★★★★★★★★★★★★★★★★★★
★
★
★
★
★
★
★
★
★
★
★
★
★★★★★★★★★★★★★★★★★★★★★★★★★★★★★★★★★★★★★★★★★★★★★★★★★★★★★
Permalink : https://www.rokuhan.com/english/news/2021/07/new-release-of-st012-1-emd-f7-atsfst012-2-emd-f7-new-york-central.html